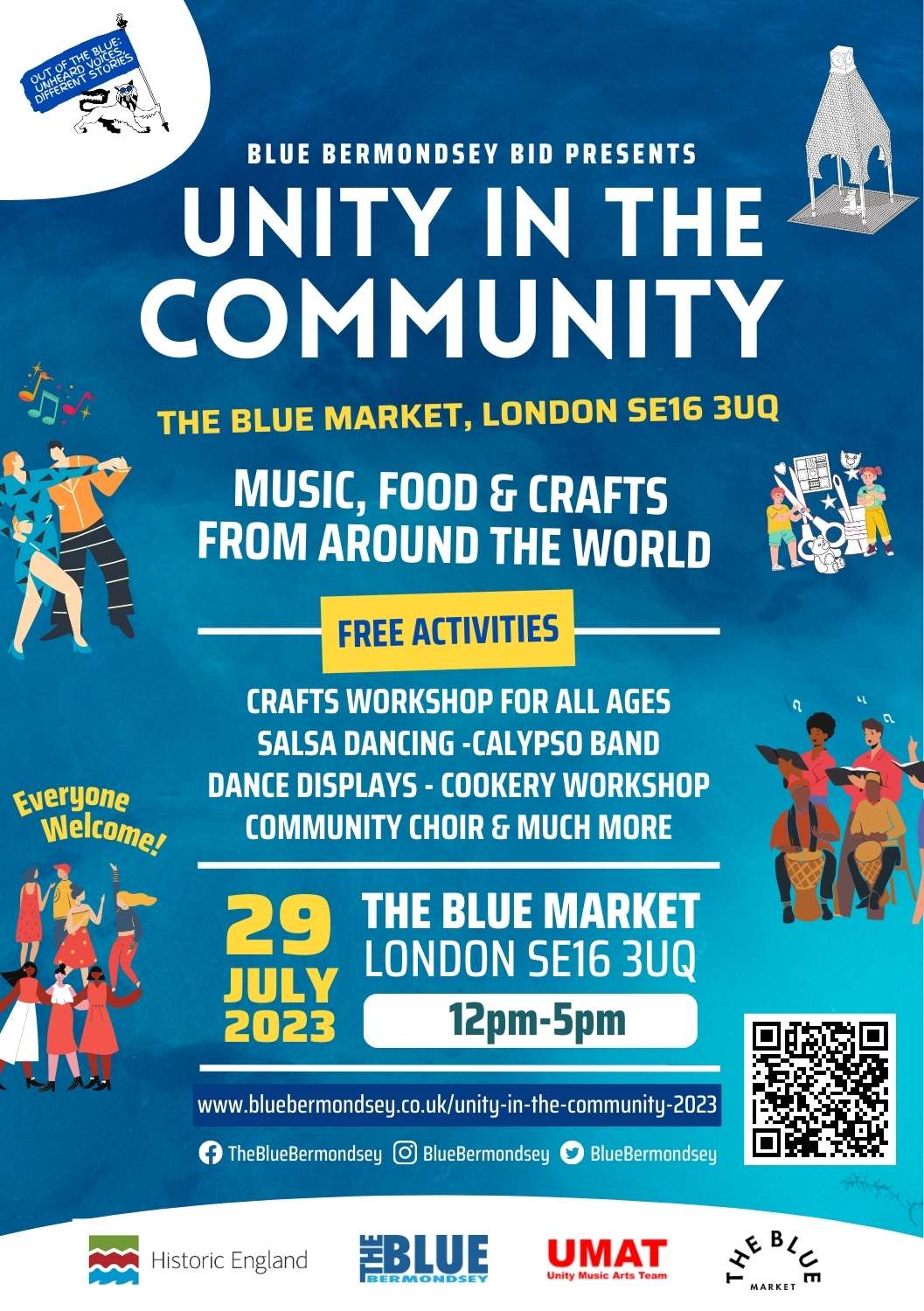 Unity In The Community 2023, free live music and activities
Unity In Community 2023 is a gala event on Saturday 29th July from 12pm to 5p at The Blue Market. It brings together live music performances from Unity Music Arts Team and activities from 'Out Of Bermondsey: Unheard voices, Different Stories' in a celebration of local cultural diversity.
Unity in the Community will feature music and dance performances alongside creative arts workshops and educational displays around The Blue Market, London SE16 3UQ. 
Free Activities
There will be free activities throughout the day. Follow us on social media for the latest updates. There are are of the activities scheduled on the day:
Community Choir: Live music celebrating popular music influenced by Afro-Caribbean sounds.
Small Island Projects : Live Calypso Band with steel pan drumming
Salsa Dancing workshop: Join us to dance in the purpose-built performance space in The Blue Market Place hosted by UMAT
Windrush 75 Tribute in Music and Dance :Celebrating the impact of Windrush on popular culture with music, spoken work and dance by local performers. Uniting people of all cultures in appreciation of the musical heritage that we now all share together. Featuring Poetry and a display of Quadrille Dancing and Breakdancing.
Family Art Workshops: There will be a material for children/families to make cards that reflect the Windrush diaspora with artist Tracey Francais. The collage material will be a mixture of recycled material, photocopies, pages from magazines that celebrate Windrush. 
DJ and Music Workshop: Try your hand a DJing in Big Local Works. Discover the African root of Afro-beat, Reggae, Hiphop, Ska, Calypso, Drum & Bass and many other music styles with a workshop for families. 
LS Jerk Cookery Workshop: Learn to make classic West Indian dishes with LS Jerk.
Learn to Fix Your Bike: Bicycle repair workshop funded by National Lottery Community Fund
All activities are free and everyone is welcome. Some of the activities are indoors with a limited number of spaces.
The Blue Markets Stalls
Taking advantage of the venue's historic use as a street market, food, and crafts will be on sale.
Out of The Blue: Unheard Voices, Different Stories
A series of free activities to explore the diversity of Bermondsey, a historic neighbourhood located just outside the city of London, renowned for its rich industrial heritage and vibrant community. Over the centuries, Bermondsey has attracted people from all walks of life, contributing to its diverse character and becoming a melting pot of cultures. The neighbourhood's working life has played a pivotal role in shaping its identity, making it an intriguing and dynamic place to live and visit.
This event is supported by Historic England and Blue Bermondsey BID.
How to get there:
Buses: 1, 381, P12
Underground: Bermondsey Train: South Bermondsey Overground: Canada Water
Santander dock stations on Southwark Park Road and Clements Road
Bicycles parking available.
About the Blue Bermondsey BID
Blue Bermondsey BID is an independent, not-for-profit company funded and led by local businesses who activities are geared to provide services to our members whilst providing a unified voice on issues that concern the local business community. We work with the local stakeholders, residents, and visitors to help make The Blue in Bermondsey a better place to work, live and visit by funding many innovative initiatives and events.
www.bluebermondsey.co.uk
Blue Bermondsey BID on social media
Facebook: TheBlueBermondsey / Instagram: bluebermondsey / Twitter: bluebermondsey.
Posted in Events