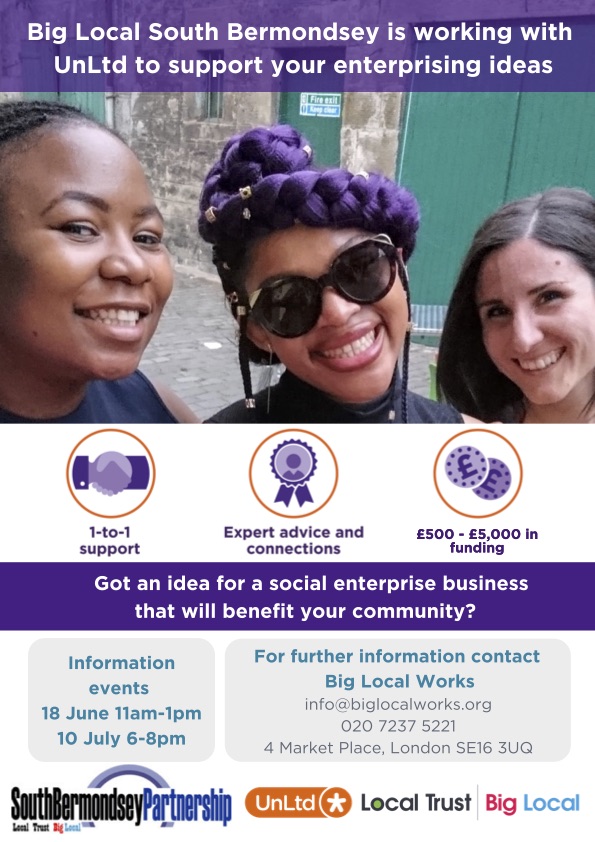 Calling all Social Entrepreneurs in South Bermondsey
Information event for social entrepreneurs in South Bermondsey working in their communities, implementing sustainable local solutions.
About this Event
Social entrepreneurs are working hard to respond to the challenges faced by people in their communities.
Yet in a climate of increasing inequality, lack of trust in decision makers and a contraction in public spending, many don't feel empowered to create change in the places where they live.
Unltd and the South Bermondsey Big Local Partnership are in support of a future where social entrepreneurs flourish in and with their communities, implementing sustainable, locally embedded solutions.
Building on years of experience and knowledge, the aim is to enable social entrepreneurs to achieve significant impact in their community by:
Funding and supporting social entrepreneurs as they grow their ventures
Finding champions who can open up markets and bring resources to social entrepreneurs
Building local peer networks of support and connecting our social entrepreneurs to other great sources of support
Building collaboration between these entrepreneurs and other local players
Enabling them to access investment, innovate in their areas and influence externally
Fostering a local support infrastructure and critical mass of social ventures.
Come join us and find out more at this first information event at Big Local Works on the 18th June 11am – 1pm (4 Market Place, Bermondsey, SE16 3UQ)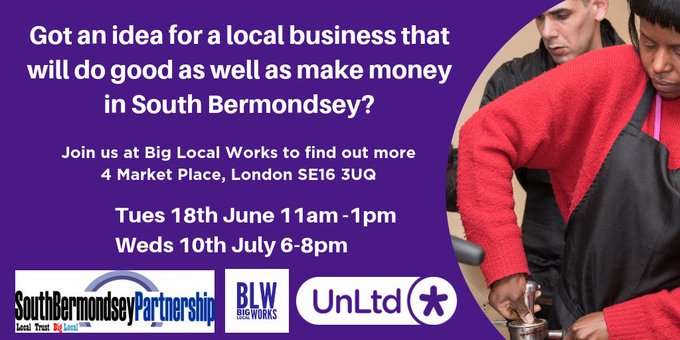 Click here to learn more about UnLtd work
Posted in Community