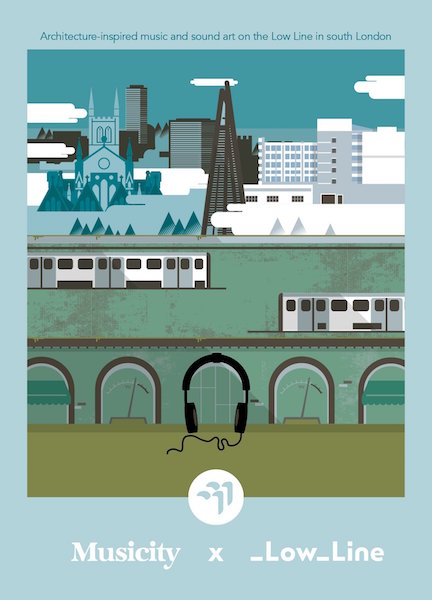 Blue Bermondsey BID partnered with Better Bankside, Team London Bridge BIDs and Musicity Global to deliver a unique music experience along the Low Line.
As part of this year's London Festival of Architecture, Musicity will work with musicians and sound artists each responding to 15 locations along the railway arches that form the LowLine and have been a part of Bankside, London Bridge and Bermondsey's heritage for over 150 years.
Each track will be geo-tagged to a different location including Old Union Yard Arches, Ewer St, Borough Market, Southwark Cathedral, Bermondsey Street Tunnel, Vinegar Yard, The Biscuit Factory and others, and will be accessible for streaming via the Musicity smartphone webapp. Artists include Szjerdene, Erland Cooper, Suitman Jungle, William Doyle, Nabihah Iqbal, Chihiro Ono, The Memory Band, Gestalt, Frog Morris, Lossy, Cunning Folk, Shur-i-kan, James Alec Hardy, Lolade la Mata and Thomas Stone. Please check our website for updates and information, including walking tours and live events www.musicityglobal.com
For more about the LowLine visit lowline.london#LowLineLDN
Tuesday 4 June: Musicity X Low Line event
On Tuesday 4 June 2019 at The Underdog Gallery, the Musicity X Low LineSpecial free public event hosted by BBC Radio 3 Late Junction's Nick Luscombe from 5pm till late. An evening of music and conversation to celebrate the launch of Musicity x Low Line, featuring
London-based French composer and musician Lola de la Mata
live Jungle and Drum & Bass mash-up artist Suitman Jungle
deep house producer, composer, digital artist and jazz pianist Tom Szirties
musician, storyteller and supremo of the South East London Folklore Society, Cunning Folk
experimental soundscape creators and visual artists Gestalt; Japanese-born violinist Chihiro Ono
electro-acoustic composer Thomas Stone; audio-visual performance artist James Alec Hardy
and artist, curator, comedian, designer, stage manager, magic lanternist and bingo caller, Frog Morris.
Launching as part of London Festival of Architecture 2019, Musicity x Low Line will see fifteen sites along the mighty Victorian railway viaduct, spanning Bankside, London Bridge and Bermondsey, come alive with new music created especially for each site.
The London Festival of Architecture is the world's largest annual architecture festival. The theme for the 2019 event, which runs from 1-30 June across the capital, is 'Boundaries'. London Bridge is a focus area for this year's Festival and will be hosting over 60 events through the month.
The venue
The Underdog Gallery, Arch 6, Crucifix Lane, London Bridge SE1 3JW.
Posted in Events