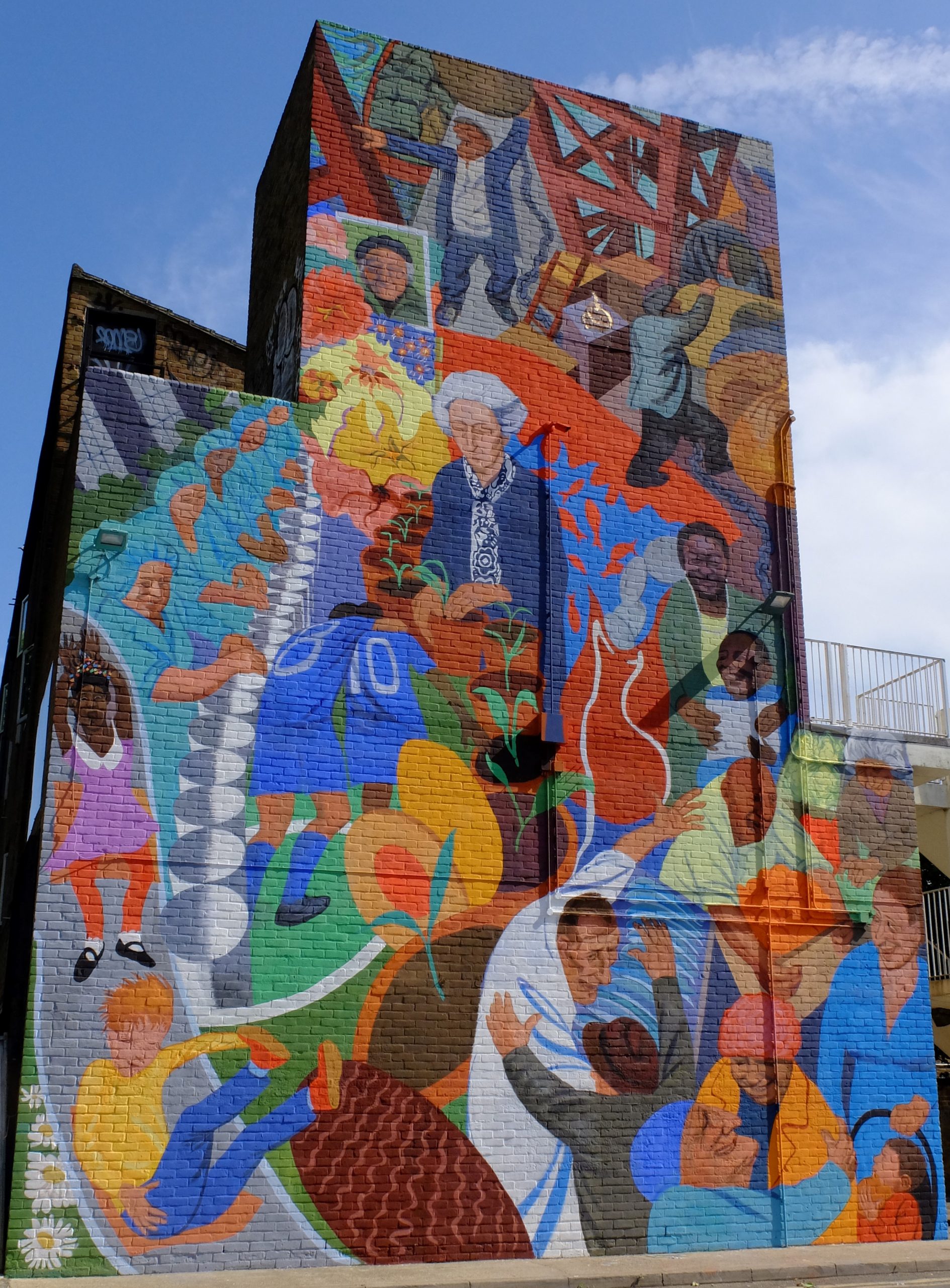 Blue Bermondsey People's Mural
The final element of the Made in Bermondsey regeneration project was completed in mid-June with a amazing community mural celebrating the history and life of South Bermondsey, painted by distinguished mural artist Paul Butler and partner Linda Jane James with local artists Moses Kannah and Morgan Paton.
Located in the Blue Market car park, the mural, which is nearly 15 metres tall, will take its place beside the great London murals which have become well known landmarks. Paul Butler has painted or restored five of the London murals including the famous Cable Street mural commemorating the battle of between local people and fascists in the 1930s.
The design was developed after extensive research, which involved workshops in the Blue Market and at Galleywall and Redriff primary schools, the City of London Academy and the Globe Academy to gather ideas and images. After 2 months painting the mural was completed in mid-June
Legendary Bermondsey reformer Ada Salter is the centrepiece, who became Mayor of Bermondsey in 1922, the first female mayor in London and a pioneering environmentalist. While in office she transformed the area building new social housing, planting trees, and improving the quality of life for local working class people.
Paul Butler said:
"I would like to make the point that Bermondsey is an extraordinary
place, because it was very significant in the industrial revolution. The first
canning factory in the world, the biggest biscuit factory, a huge tanning
industry, the docks – these are things that should be remembered.
The mural celebrates and dignifies ordinary life and is a monument for
the people of Bermondsey. It was at times daunting task but the warmth and good
humour of the local people as they passed by, kept us going – their comments and
feedback, a bit of repartee, anecdotes about people and history. And then of
course there were the individuals we got to know and whose humour, vitality and
insight kept us both grounded and up-lifted.
A heartfelt thank you to all who made it possible"
Blue Bermondsey would like to give a big shout to Artel Scaffolding Ltd and the team for providing and erecting the the scaffolding free of charge.
www.artelscaffolding.com
Posted in BID News, Community, Made in Bermondsey