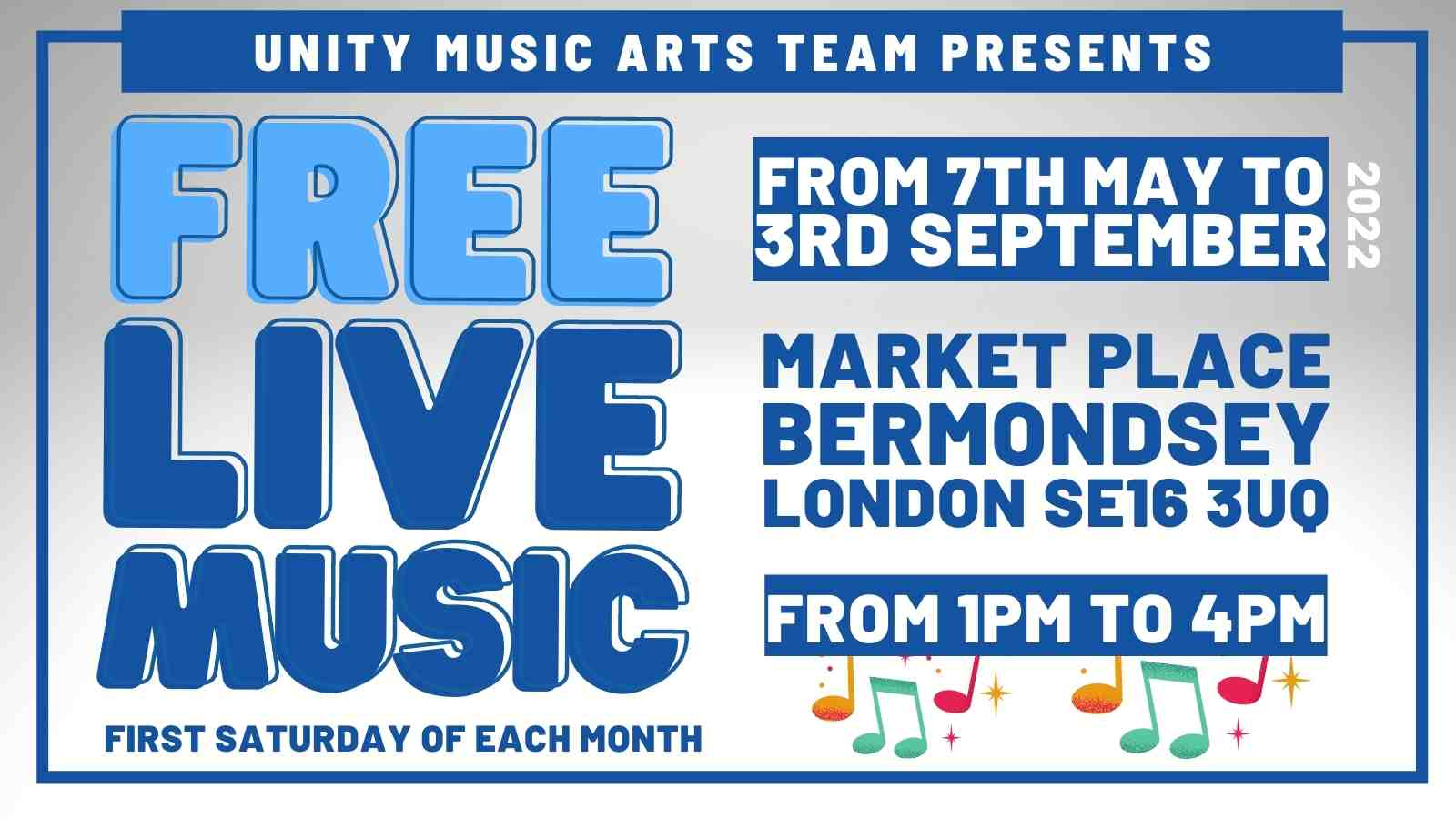 Live Music At The Blue Market
We've got the perfect soundtrack for your Saturdays with Live Music at The Blue Market. We are pleased to announce a series of free monthly music events starting from Saturday 7th May 2022 and presented in partnership with the Unity Music Arts Team (UMAT)
Starting next Saturday, May 7th 2022, UMAT are hosting a live music series with professionals musicians and singers. Join us to enjoy live music and all the local food, crafts and produce that The Blue Market has to offer!
On Saturday 4th June there will be a special programme and additional activities to celebrate the The Queens Platinum Jubilee.
First Saturday of each month from 1pm to 4pm
These free live music performances will take place on the first Saturday of each month, starting at 1pm until 4pm. Unity music Arts Team continues to work in unison with Blue Bermondsey BID to bring a mixed programme of music styles to Market Place. Inviting music talent consisting of acoustic blues, soul, folk, reggae and community engagement ensembles.
Shop, eat, listen and relax
Saturdays are perfect to explore The Blue and visit the revamped Market Place pedestrianised squared. Don't miss the chance to do some shopping before seating in the square or in one of the cafes and listen to the music. Visit the stalls of Latin traders, traditional fishmonger, unique crafts and other market traders or take a photo of the brand new clock tower. Perhaps, go and check the shops and places to eat along Southwark Park road before the music starts.
Getting to the square
Buses: 1, 381, P12
Underground: Bermondsey (also Canada Water connecting with buses)
About the organiser
UMAT is a grassroots community music company (CIC) based in London. This not for profit group was founded by vocalist Stephen Pierre in March 2018. They promote aspiring and seasoned creative talent, support community engagement and other good causes. Empowering equality and diversity is at the forefront of everything we do. Their collective of musicians range from students and graduates from London's leading music conservatoires.
#music #bermondsey #free #events
Posted in Community, Events