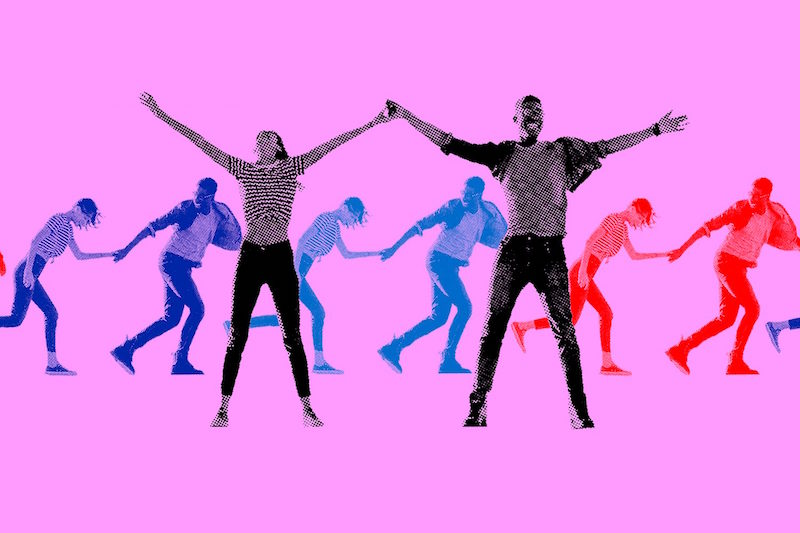 Boundless theatre Boundless Accelerator and new shows
Boundless Theatre today announces new show for 2019 – The Parakeet Experience by Brigitte Aphrodite and Quite Boy; also announced is the launch of Boundless Accelerator and search for new advisors
Artistic Director of Boundless Theatre, Rob Drummer, today announces a new production for 2019 – The Parakeet Experience by Bridget Aphrodite and Quiet Boy. The production will play in March and May of 2019, with further dates to be announced.
Also announced today is the launch of Boundless Accelerator – a new artist support programme to explore the themes of mental health and wellbeing, culminating in sharings and an event later this year.
In addition, the company are expanding their Advisory Group – a group of 18-25 year olds who work year round with the company to inform and interrogate the company's programme. In return they receive support and mentorship, as well as a valuable insight into the workings of the theatre industry.
Artistic Director of Boundless, Rob Drummer said today, "Our new programme of work allows us to directly connect the most exciting artists and our teenage and young adult audiences. The Parakeet Experience pushes the form of our work, Boundless Accelerator will unlock daring new work and our Advisory Group puts teenagers and young adults at the heart of everything we do"
The Parakeet Experience
Boundless Theatre and Boom Shakalaka Productions today announce the first dates for The Parakeet Experience, the latest show from Brigitte Aphrodite and Quiet Boy (My Beautiful Black Dog) will play to its first audiences in March (as the Closing event of POW festival in Margate on Sunday 17th March) and in May (at the Canada Water Theatre) with further dates to be announced.
The Parakeet Experience is developing on-the-road, it's a gig-storytelling show and coming of age fantastical tale about a teenage girl and the urban ring-necked Parakeets of South East England.
Follow our girl's journey from moving to Margate with her mother under difficult circumstances, to overcoming hardship, making new friends and celebrating the alien bird phenomenon of Parakeets. A sensory musical for the eyes, ears and heart. A cacophony of words and progressive beats, twisting the musical form.
Brigitte Aphrodite commented, "The Parakeet Experience is all about a new kind of punk, a kinder punk, rebellious, anti-establishment, thoughtful and caring at the same time. Punk with empathy!"
Gemma Cairney, from Boom Shakalaka Productions added, "Collaboration and team building are at the heart of fantastical multifaceted artistic pursuits. The meeting of minds and expertise between Boom Shakalaka Productions, who got Brigitte's show 'My Beautiful Black Dog' off the ground, & Boundless, who are making tidal waves in the art of theatre for young people, makes me very excited about the future of the Parakeet project."
Boundless Accelerator
Boundless are looking for 4 artists or artistic ideas to support on the theme of mental health and wellbeing for a new Artist Support programme called Boundless Accelerator. Providing a Bursary of £2500 per artist or artistic idea alongside a package of in-kind producing support, Boundless will mentor and encourage co-creation and development with young adults culminating in sharings and a public event at the end of 2019.
Boundless Accelerator aims to connect artists and young adults through artistic exploration of urgent ideas. The theme has been identified by the young adults Boundless works with on a regular basis, and the application process will take in to account bold ways to respond to the brief.
Artistic Director of Boundless, Rob Drummer said today "Boundless Accelerator is our way of investing in artists and new ideas that impact on and start conversations with the teenage and young adult audience we are developing. These bursaries aim to unlock meaningful and perhaps daring new work around mental health and wellbeing which so many young adults cite as the most important issue of our time."
Boundless is committed to supporting the most talented artists of the future, now and is seeking proposals from around the UK, from artists under the age of 30
For details on how to apply, see the Artists section of the Boundless website and follow @boundlessabound.
Applications can be submitted until 8 March 2019.
Boundless Advisory Group
Now in its third year, Boundless is expanding its Advisory Group of young adults aged 15-25 who provoke, support and interrogate all of the company's work through full access to the organisation. Following a successful fundraising campaign as part of The Big Give in 2018, Boundless are looking to expand the current Advisory Group.
The Advisory Group at Boundless Theatre is a purposefully evolving group of young adults, who meet with team members regularly, and work together on ways to connect the company's work more widely with teenagers and young adults around the UK. In return, they receive mentorship and support, as well as paying for culture trips, providing creative opportunities and facilitating ideas for projects around the year.
In 2019/20 the Advisory Group will work with Boundless on Extended Universe, a narrative podcast, created by Nina Segal and connect with young people in Denmark, Spain and Greece (co-funded by the Creative Europe Programme of the European Union). They will also help the group create and deliver a project or event in late 2019/20 with a budget and producing support from the Boundless team.
For details on how to apply, see the 15-25? section of the Boundless website and follow @boundlessabound. The window for applications closes on 11 May 2019.
Boundless Theatre
Boundless Theatre creates exhilarating, relevant and shareable theatre with and for teenagers, young adults and curious others, responding to a vibrant and diverse global culture. They promote conversation, collaboration and exchange across the UK, Europe and internationally. The company has continued to push the boundaries of work for this audience since it was established fifteen years ago. Under Rob Drummer's artistic direction the company has a bold new brand that celebrates the unlimited potential of our young adult audience. Beyond their work on stage they empower and inspire teenagers and young adults through a range of opportunities across the UK. Through the Associates programme and artistic development initiatives they invest in future artists now, and empower a new generation of artists to be extraordinary.
Boom Shakalaka Productions
www.boomshakalakaproductions.com
Boom Shakalaka is the brainchild of Gemma Cairney, known for cultivating a dynamic and wide reaching career across broadcast and arts (BBC Radio 1, 1Xtra, BBC Radio 4, BBC 6Music, World Service). Having won multiple awards for self-pitched shows, such as an intimate dinner with Grace Jones broadcast on 6Music, to a SONY Gold Award for her honest and visceral investigation of abusive relationships among young people on BBC Radio 1, she is no stranger to upping the ante when it comes to telling stories – pushing boundaries with the BBC and beyond.
Then there is Beth, the thoughtful, pragmatic and robust partner in crime to Gemma's publicly known enthusiasm. An English lit graduate of Oxford University, she worked in marketing and project management in independent music for 9 years before discovering a passion for radio making which she developed with indie radio production company Cast Iron. She has also project managed a diverse number of arts and music projects, and more recently works with Nick Cave's management team across music and film projects.
As business partners Gem and Beth have access to talent across a huge breadth of specialisms. Boom works with an impressive pool of makers, writers, producers and collectives and is committed to finding new ways to tell stories. They are particularly well connected to music, visual arts and acting talent as well as more traditional broadcasters and presenters. Boom's structure is rooted in eclecticism.
Boom was born from an appetite for connecting people, and telling stories. They bring some of the best and most creative individuals together and as a result, make memorable work.
Posted in Community