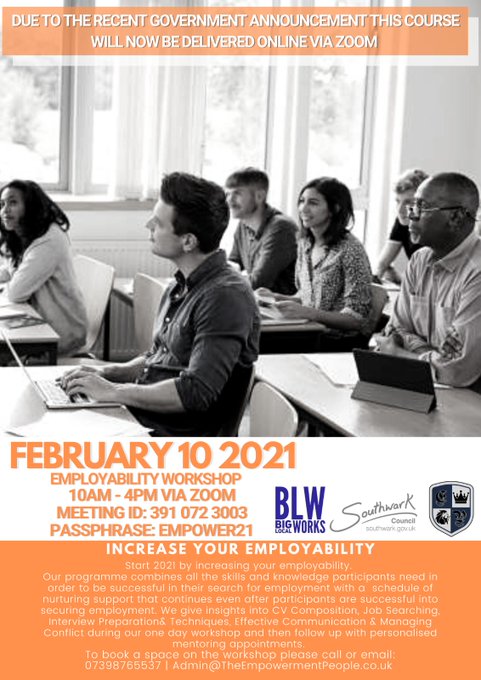 Big Local Works – Employability Workshop Feb 2021
Free Employability Skills Workshop Online for anyone aged 16+ covering CV Writing, Job Searching, Application Forms, Effective Communication more
The Empowerment People are back and delivering a 1 day workshop covering everything you need to be successful in your search for employment; From CV writing and interview skills, to communicating effectively and time management.
The workshop graduates are then provided with weekly 1-2-1 follow up sessions to help with job searching, applications, cv editing and general mentoring support.
The workshop providers are also in a position to make personalised referrals for benefits advice and give business start up support also! So whatever path your employment journey takes we can help and aide you.
The Employability training will be online via ZOOM on 10th January from 10am to 4pm

Please find the meeting ID and passcode below:
Meeting ID: 391 072 3003
Passcode: EMPOWER21

If you have any technical difficulties or additional requirements please email:
admin@theempowermentpeople.co.uk
Further help
BLW's extensive local network, and partnership with Blue Bermondsey BID helps to link local residents with local job opportunities and will provide support on an ongoing basis. 
Posted in Community, Events