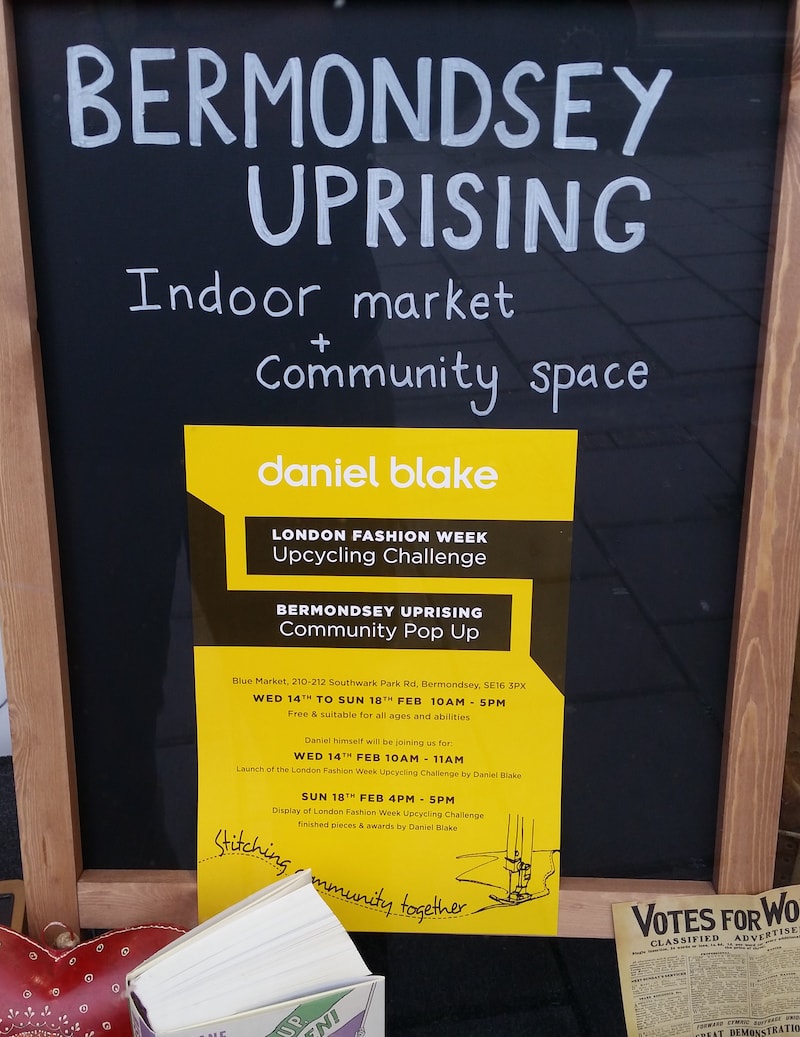 Bermondsey Uprising Upcycling Challenge with Daniel Blake
Bermondsey Uprising is hosting a series of workshops to coincide with the London Fashion Week. The space has organised the Bermondsey Uprising Upcycling Challenge with famous London designer Daniel Blake.
It will take place from 10am to 5pm February 14-18 and is free and suitable for all ages. There will be a display of the finished pieces and awards handed out by Daniel Blake at the shop on Sunday, February 18, from 4-5pm.
Bermondsey Uprising is a new pop up and community space in The Blue located in the former Santander branch in Southwark Park Road. It is run by Community Opportunity, which it might sound familiar since it also has a few stalls in The Blue Market on Saturdays.
Daniel Blake's London Fashion Week Upcycicling Challenge
Suitable for all ages, Free
Wednesday 14th of February 10am -5pm, Daniel Blake launches the challenge
Wednesday 10am-5pm from 14th of February to Sunday 18th of February, free activities
Sunday 18th February 4pm-5pm: Final show and Daniel awards prizes
Other activities at Bermondsey Uprising
Thursday 
10.30am-3pm and 4pm to 7pm / Indoor Market /  DIY Playspace / Story Corner
10am-12noon / Local Stories Coffee Morning
10am-12noon Tiny Dog Stroking Club
12noon-2pm Biscuit Town Social: Board games and card games
12noon-3pm / Bicycle Ninja Club.The Blue Market own bicycle mechanic comes to the shop
4pm-7pm / Sewing classes
Friday
10.30am-3pm and 3.30pm to 8pm / Indoor Market /  DIY Playspace / Story Corner
10am-12pm / Bermondsey Poetry Club: poetry, books, plays and films
12pm-2om / Biscuit Town Social Club: board games and card games
2pm-3pm / Football Fans Club
Posted in Events