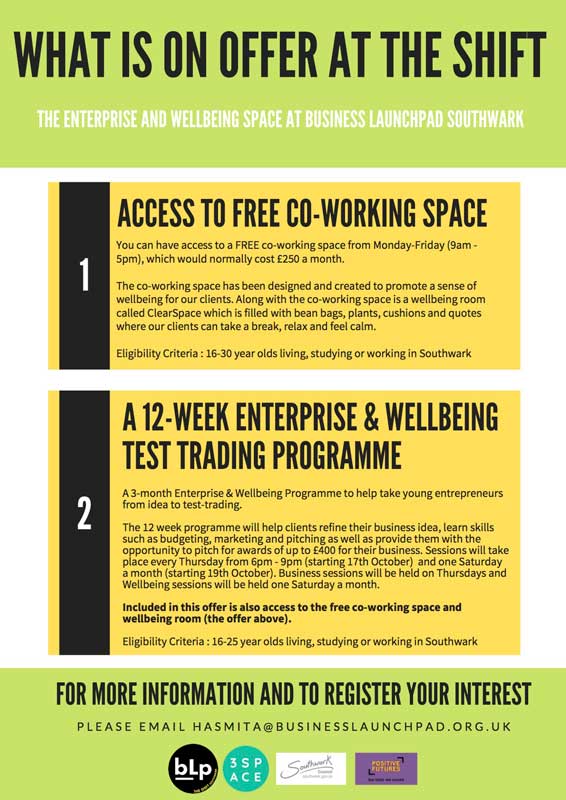 The Shift: Business Launchpad's Enterprise and Wellbeing Space
The Shift, Business Launchpad's Enterprise and Wellbeing Space, is located in 3Space in Bermondsey , Southwark just a minute away from Bermondsey Station.
Business Launchpad in partnership with Southwark council and other local organisation is to open the doors and offer young people who live, work or study in Southwark a free co-working and wellbeing space which would normally £250 per month (per person) and an Enterprise and Wellbeing Programme valued at £1500 including a chance to pitch for up to £400 to test your business idea.
What's on offer?
1) Access to free working space from 9-5pm Mon- Fri created to increase your sense of wellbeing – there is a co-working space and a room called Clear Space – with bean bags and cushions for you to relax in.
2) A 3 Month Enterprise and wellbeing programme to take you from idea to trading.
– 12 week enterprise programme helping you to refine your idea, develop your budget and start testing your idea.
– You will be able to pitch for up to £400.
– The Enterprise and wellbeing programme will take place every Thursday from Oct 17th and run from 6-9.
– There will also be a wellbeing workshop one Saturday a month.
What happens next?
Click on the button below to visit the website and fill in the Business Launchpad the Shift – Expression of Interest Form online to choose what offer fits you best. Sign up there and you'll get a call to have a little chat and arrange for you to meet with the Launchpad team and see the space.
If you have any questions , get in touch by messaging Hasmita@businesslaunchpad.org.uk
Deadline
Deadline: 26th September 2019 at 12pm – however places will be on a first come first serve basis
Posted in BID News, Events