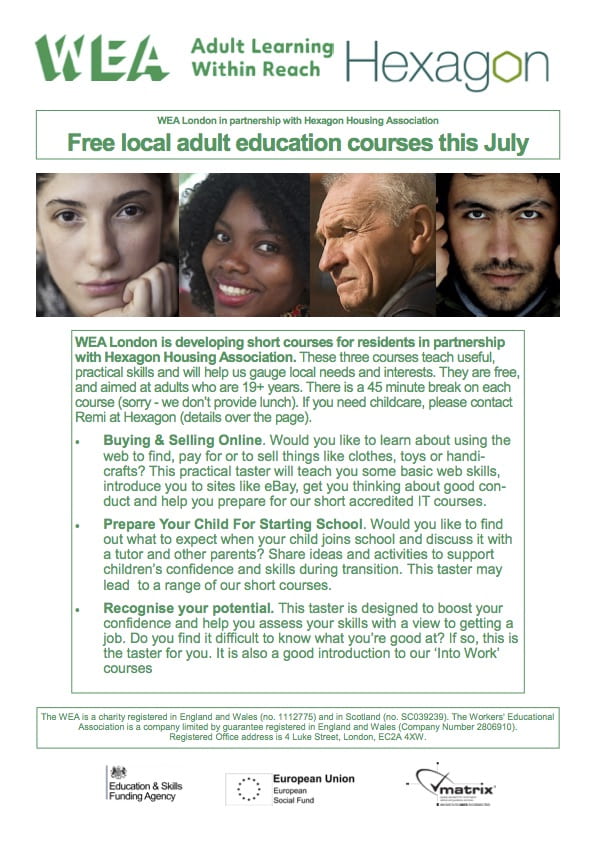 Free local adult education courses this July at Big Local Works
Free local adult education courses this July at Big Local Works
WEA London in partnership with Hexagon Housing Association offer Free local adult education courses this July at Thamesmead and Bermondsey locations.
WEA London is developing short courses for residents in partnership with Hexagon Housing Association. These three courses teach useful, practical skills and will help us gauge local needs and interests. They are free, and aimed at adults who are 19+ years. There is a 45 minute break on each course (sorry – we don't provide lunch). If you need childcare, please contact Remi at Hexagon (details over the page).
Buying & Selling Online.
Would you like to learn about using the web to find, pay for or to sell things like clothes, toys or handi- crafts? This practical taster will teach you some basic web skills, introduce you to sites like eBay, get you thinking about good con- duct and help you prepare for our short accredited IT courses.
Prepare Your Child For Starting School.
Would you like to find out what to expect when your child joins school and discuss it with a tutor and other parents? Share ideas and activities to support children's confidence and skills during transition. This taster may lead to a range of our short courses.
Recognise your potential.
This taster is designed to boost your confidence and help you assess your skills with a view to getting a job. Do you find it difficult to know what you're good at? If so, this is the taster for you. It is also a good introduction to our 'Into Work' courses
These are the courses available in Bermondsey at the Big Local Works, 4 Market Place SE16 3UQ
| DATE | DAY | TIMES | COURSE | PLACE |
| --- | --- | --- | --- | --- |
| 9th July | Thursday | 10am-2.45pm (with break) | Buying & Selling Online | Hawksmoor Youth Hub, Thamesmead |
| 25th July | Wednesday | 10am-2.45pm (with break) | Recognise Your Potential | Hawksmoor Youth Hub, Thamesmead |
| 31st July | Tuesday | 10am-2.45pm (with break) | Prepare Your Child for Starting School taster | Hawksmoor Youth Hub, Thamesmead |
| 24th July | Tuesday | 10am-2.45pm (with break) | Prepare Your Child for Starting School taster | The Big Local Works, Bermondsey |
| 2nd August | Thursday | 10am-2.45pm (with break) | Recognise Your Potential | The Big Local Works, Bermondsey |
| 7th August | Tuesday | 10am-2.45pm (with break) | Buying & Selling Online | The Big Local Works, Bermondsey |
Enrolling for the courses, help with forms, travel and child care:
Posted in BID News