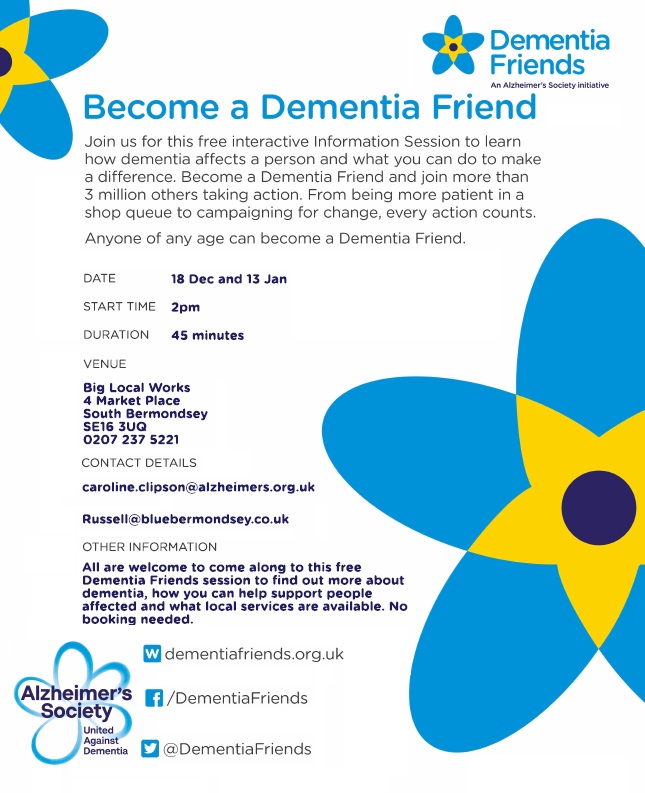 Blue Bermondsey BID has partnered with Southwark Dementia Action Alliance and the Alzheimer's Society to create more awareness and understanding of this debilitating condition.
Local businesses, shopkeepers and residents are invited to pop into our Dementia Friends information sessions to be held on Wed 18th December at 2pm and Monday 13th January 2020 at 2pm at Big Local Works in Market Place SE16 3UQ.
These lively, interactive sessions will give you lots of useful tips and ideas about how to engage with customers and neighbours who are living with dementia and will provide details of local services and groups aimed at helping people who are affected by this condition.
In addition, all those local shops who send a staff member to take part in one of these sessions will be given a special Dementia Friendly sticker to put in their shop window. No booking is needed, just come along to the Big Local Works office at 2pm on 18th December or 13th January 2020.
If you would like to attend but can't make those dates please contact:
russell@bluebermondsey.co.uk or luds@biglocalworks.org.uk
And we will be happy to arrange some more sessions to take place during February and March.
For more information please check out www.dementiafriends.org.uk
Or contact caroline.clipson@alzheimers.org.uk
Tel: 07525 823431
Posted in Uncategorised