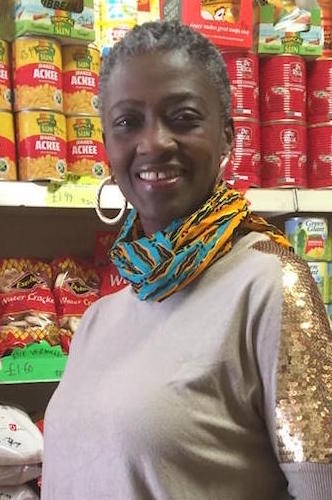 10 questions chat with local business woman Yaa Asantewa
Georgina or Yaa Asantewa as she is known by most for her customers, has been part of the local business community for many years. She is a strong supporter of women setting up their own enterprises and she has always been keen to participate in initiatives to promote the Blue Bermondsey as a shopping destination.
As March marks the commemoration of Women's Day, we popped in to talk to Georgina at her shop in Southwark Park Road for our ten questions quick chat
What is your business called?
Yaa Asantewa Tropicals
What does your business do?
We specialised in African Caribbean food products; as trained African cuisine chef I also prepare food for takeaway and offer catering services
How long has your business been in The Blue?
It's been more than fifteen years and very happy with the decision
How many people do you employ?
We are a team of three people
What do you like about your job?
I like talking and serving people, giving customers what they want. You see, many of my customers come a long distance for the unique range of products we stock that they can't find otherwise. In short, I like a good conversation with my customers and seeing them happy.
What is your most popular product or service?
In house plantain chips and smoke fish delicatessen are definitely very popular; we've got too many Nigerian, Ghana and Sierra Leone products to choose one from all them.
What is the best thing about the Blue?
I like its diversity, how mix it is. For me, I've been here for a while and it feels home now.
Has any celebrity popped in?
A few; Ms Banks and A-star among them.
What's your advice for entrepreneurs?
It's hard work but if you stay focused, it's very rewarding. As a woman, it's also about having a sense of pride of being your boss
Finally, Is Blue your favourite colour?
No doubt, even my chef uniform is blue!
About Yaa Asantewa Tropicals
Yaa Asantewa Tropicals is located in the high street and it stocks a wide range of products from Nigeria, Ghana, Sierra Leone and other African countries. The shop sells also fresh food cooked in house and it is a culture and community hub for many African people now leaving in the area.
Visit Yaa Asantewa Tropicalwebsite
Yaa Asantewa Tropicals, 251B Southwark Park Rd, London SE16 3TS | Telephone: 020 3601 2626
Are you a local business in The Blue? Would you like to take our 10 questions chat. Get in touch!
Posted in BID News