The Blue Deal Card is an initiative by The Blue Bermondsey Business Improvement District to support all local business while helping residents, visitors and workers in the area to save money.
Where to get the blue deal card?
You can get a deal card from any participating business or click here to request it using our contact form and we will send you one!
How do I get the discounts?
Visit the participating shop, purchase qualifying goods and show your Blue Deal Card to get the discount.
No need to register
There is no registration and it's totally transferable. Remember you must present the card to to get the discounts
Subscribe to our newsletter
Don't miss any offers by subscribing to Down The Blue Online newsletter and get it on your inbox once a month
Terms and Conditions.
The Blue Deal Card is transferable.
Blue Deal Card offers can be withdrawn at any time.
The Blue Deal Card can only be used at participating businesses.
Minimum 5% discount subject to exclusions (see below)
Blue Deal Card partners may offer other promotions instead of 5% subject to their own T&C
Any questions, contact us.
We are happy to assist. Please, get in touch by social media or email at media@bluebermondsey.co.uk
Blue Deal Card T & C
The card is transferable.
Blue Deal Card can be withdrawn at any time.
Only valid at participating businesses.
Participating businesses can offer other promotions instead of 5% off shown on the card
Check with the business for their terms and conditions for each offer.
Current offers
---
5% OFF ON ADULT ADMISSION DAYTIME TICKET
Special offer available for Blue Deal Card holders to book annual tickets to London Transport Museum at a discounted rate of £13.50 instead of the standard £18.50 and applicable to other other adult ti Kids go free
London Transport Museum annual tickets allow unlimited day time entry to the museum for a whole year, including access to their award-winning exhibition Hidden London, plus free entry to our Museum After Dark late events, taking place every Thursday until 29 October 2020.
Blue Deal Card holders are eligible for £5 off on adult admission daytime ticket when booking online. A Blue Deal Card must be shown on arrival if asked. This discount also applies to accompanying family members. Please see terms and conditions for more information about this offer.
Read more here
5% OFF PURCHASES AT BELL & SONS BUTCHERS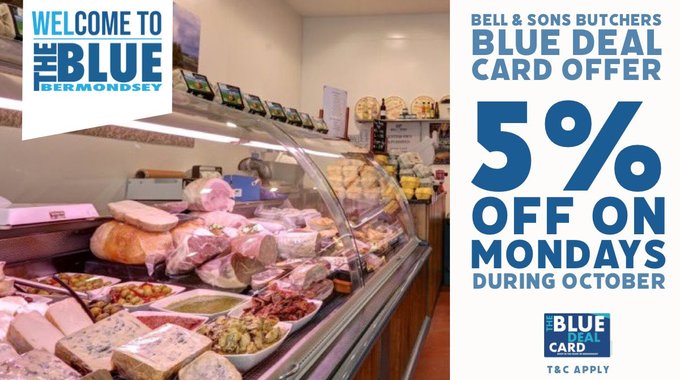 Get 5% off purchases at Bell and Sons of Bermondsey Butchers on Mondays during October.
This offer in limited and does not apply to Christmas pre-orders or online purchases. T & C apply
10% OFF PURCHASES AT BLU1 LONDON
Get 10% off on menswear at Blu1 London excluding other offers or discounted products and it can only be used on Mondays.
5% OFF AT THE FISH STALL IN THE BLUE MARKET
The Fish Stall is now accepting the Deal Card offering a 5% on any purchases.
£5 FISHER FC ADULT HOME MATCHES TICKETS
Adult home match games tickers for £5
For match dates and other information, visit Fisher FC website
St Paul's Sports Ground, Salter Road, London SE16 5EF
SPECIAL DISCOUNTS AT <strong>VSF W</strong>INE EDUCATION
VSF Wine Education is happy to offer the following discounts to holders of the Blue Deal Card:
5% off Japanese sake
5% off grape wines (Japanese, Georgian, French, Portuguese wines etc.)
5% off F&B-related accessories and books
5% off WSET courses in Wines, Spirits and Sake
In addition you can also get 5 GBP off VSF's 1.5-hour workshop "Understanding Japanese Saké"
Conditions & restrictions:
This offer is unique for holders of the Blue Deal Card and valid until 31 December 2021 or further notice.
Holders of the Blue Deal Card may enjoy the discounts mentioned above by asking for a special promo code via email at info@vsf.wine which can then be used directly on www.vsf.wine, or by presenting your Blue Deal Card when visiting their office during business hours (9:00-18:00, Monday to Friday).
T&C apply.
Unit 11A, City Business Centre Lower Road, Albion St, London SE16 2XB